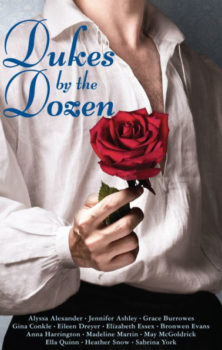 April 16, 2019
Indie Published
Out of Print
Available in: e-Book
Dukes by the Dozen
A DUKE FOR ALL SEASONS!
What's better than a dashing duke? A dozen of them! In this case, a baker's dozen—thirteen of your favorite historical romance authors have come together to bring you more than a dozen tantalizing novellas, with one per month, for a year's worth of never-before-released romances.
August — To Tempt A Highland Duke by Bronwen Evans
Widowed Lady Flora Grafton must be dreaming. Dougray Firth, Duke of Monreith, who once pledged her his heart but then allowed her to marry another, has just proposed. Why now, after eight years? When she learns the truth, can she trust Dougray to love her enough this time?
January — Dueling with the Duke by Eileen Dreyer
When Adam Marrick, Duke of Rothray, shows up on Georgie Grace's doorstep, she thinks it is to become acquainted with his cousin James's widow and daughter. Instead he brings news that will completely upend their lives and put them all in danger.
Also includes:
January — Duke in Winter by Alyssa Alexander
February — The Difference One Duke Makes by Elizabeth Essex
March — Discovering the Duke by Madeline Martin
April — The Duke and the April Flowers by Grace Burrowes
May — Love Letters from a Duke by Gina Conkle
June — Her Perfect Duke by Ella Quinn
July — How to Ditch a Duke by May McGoldrick
September — Duke in Search of a Duchess by Jennifer Ashley
October — Dear Duke by Anna Harrington
November — Must Love Duke by Heather Snow
December — The Mistletoe Duke by Sabrina York