Alaska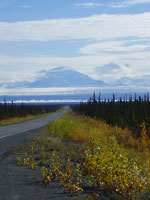 I've been lucky enough to travel many places. I've never ever seen anything as magnificent as Alaska. My husband and I made our own arrangements and took the Anchorage-Seard train, and drove inland all the way to Fairbanks and back. If you like self-guided tours, I highly recommend this way of seeing Alaska. When you get off the beaten tourboat track, you get to meet wonderful people and see sites the likes of which you never had. We saw the Aurora Borealis at a little lodge called The Point Lodge in Glenallen and ate eskimo ice cream in Dillingham (eskimo ice cream used to involve berries, sugar and seal blubber. Now, it's berries, sugar and Crisco. Oh, yeah.)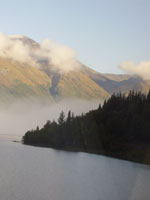 I have one caveat I picked up while there. The Alaskan people suggested strongly that we not use the Princess Cruise lines, as none of the money people spend on them comes to Alaska. There is no sales tax in Alaska, and Princess owns every concession they use. It's just something to think about. If you get a chance, meet the people. Ask about their lives, their backgrounds (there is a village on the Kenai peninsula that speaks only Russian), their lore(ask any Yu'pik native about Big Mouth Baby). Be adventurous. It's worth it. Oh, one suggestion from the locals. If you want outdoors travel, the best time to go is after the middle of August when the first cold snap happens. It kills the mosquitos. If you want the Aurora, the temperature must be below freezing. The colder the better. There's actually an aurora watch site http://www.gedds.alaska.edu/AuroraForecast/. Enjoy!
 Not a big place. The Museum is excellent, otherwise it's mostly a good jumping-off point.
Extended Stay Hotel
10 8 East 8th Avenue
(907)868-3520
(much better hotel than the big boys. Great beds, excellent staff)
Moose Gardens B&B
6345 W. Dimond BLVD
(907)245-1978
www.moosegardens.com
Funky house with fun owners. Called Moose Gardens because the Moose keep eating his prize dahlias.
Seward:
A wonderful little seaside village with lots of eco-tours out into the fjords and ocean that teams with wildlife. Everybody works around the Anchorage train arrival and departure, so you don't miss it.NB. The town literally closes its doors when the train stops running at the end of September.
Seward Windsong Lodge
Mile 0.5 Herman Leirer Road
(907)224-7116
www.sewardwindsonglodge.com
(charming hotel with cabins across road from river. Beautiful area, lovely people)
Denali National Park
A stunning trip through one of the last truly wild places on earth.
Princess Denali Lodge
Mile 238.5 George Parks Highway
The Point Lodge
Mile 17.2 Lake Louise Road
HC01 Box 1706
Glennallen, Alaska 99588
www.thepointlodge.com
(If you don't take a tour up to the park, this is one of the few places to stay)
Fairbanks:
Best place to see the Aurora, but not much else. Another good jumping-off point.
Dale and Jo View Suites
http://www.alaskabba.com/inns.php?id=68
PO Box 85087,Fairbanks, AK 99708
907-456-6838
(holy cow, what a great B&B! Luxurious, with an Aurora wake-up call)
Restaurant Recommendations
The Alaskan Railway from Seward all the way to Fairbanks. We took the Anchorage-Seward leg and were delighted. They stop for wildlife and actually serve pretty good food.
Rose's Cafe
Mile post 249.5
Parks Highway
(907)683-674
Gambardella's Pasta Bella Restaurant
706 2nd Ave
(907)456-3425
Glenallen
On the way to the Wrangle-St. Elias State Park, another range of phenomenal mountains: