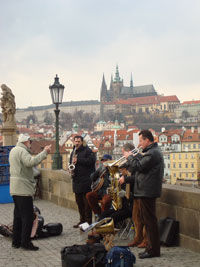 My husband travels to Prague on business and has been begging me to join him. I finally did, and have to say I'm really glad I did. This is an amazing city. It's the only major European city to not be bombed during World War II, which means the historic center is intact. And this represents more than a thousand years of history. I recommend you stay down in the historic area. We stayed in the Male Strana, beneath the castle, and the area is quaint, packed in great little pubs and restaurants, and steeped in history. If you like stained glass, don't miss St. Vitus Cathedral. If you like classical music, you can't swing a dead cat without hitting a historic palace or church that isn't playing something each night. My only caveat is to familiarize yourself with the language before going, especially if you want to use trains or subways while you're there. It's very intimidating for a westerner, but after about a day, I felt much more comfortable about it. And most Czechs are fluent enough in English to communicate. Also, if you try out at least the basics, Please, thank you, etc. the locals are delighted, and will even help you with pronunciation(it became a game with me). Just don't expect a whole lot of green veggies at the restaurants.
Hotel Appia Residence
Sporkova 3
(Right in the middle of the historic area, a 14th century convent beautifully restored. Arranges taxi from airport)
Restaurant Recommendations
There are tons of reasonably priced pubs and cafes. Prague specializes in the coffee house. for something special:
David's Restaurant
Trziste 21/611
Tucked away in a back street near Appia. Cozy, great food.
Mlynec Restaurant
Novotneho Lavka 9
Old Town, Prague 1
(one of several restaurants with a view to Charles Bridge. Great view and food)