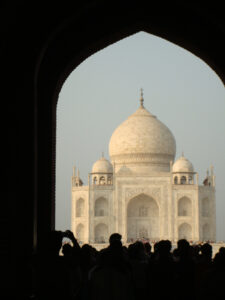 We got to stay in India for almost three weeks. I'm not going to kid you. For the first 4 days, all I could think was "I'm so glad I came. Now I'll never have to come back." I've traveled extensively, as you can tell. I thought I was prepared for the sensory overload. I was not.  I began my trip in Delhi and felt battered by the people and the noise and the dirt. But right about the end of that fourth day, I began to see past that to see the beauty. Within two more days I was fascinated. Within 10 I was in love. I truly can't wait to go back.
Every cliche about India is true. It is a land of contrasts. In Delhi the  animals fed off the trash in the streets(although in Calcutta, they are using trash to fuel). Being at the edge of the desert, it is a very dusty city. And the noise! If I heard one more horn honk, I thought I'd explode. But there is so much beauty, such diversity. I always thought the Irish people the nicest in the world. I now know better. The Indians are, hands down.
Yes, there is extreme poverty. There are children beggars you must not even make eye contact with.(every local will tell you that you will do more good by donating to Mother Theresa). But there is color and sound and an amazing joy that seems to permeate everything. I think of walking down the bazaars, where gold and scarlet flower necklaces swing in the breeze, and women in iridescent yellow, green and magenta saris crouch by the road with a blanket of fresh fruit: mangos and tomatoes and bananas. In a nearby shop a salesman lifts a length of peacock georgette in the air so it wafts into a woman's hands. Aromas of coffees and spices and flowers vie with exhaust and cow dung.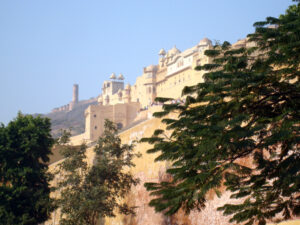 The  ancient buildings glow in the sunlight, their designs so intricate you can't believe them possible. The air is thick with shouting as men sit cross-legged negotiating, music from the local Sikh temple, the call to faith from the Mosque. India truly is a sensual banquet.
Again, Rick and I arranged a self tour. I reserved the hotel rooms using Trip Advisor(if you take a guided tour, you will usually stay only in chains). Then I used the brilliant people at Travel & Leisure Elite(a travel subsidiary of American Express) to arrange drivers, guides and interior transportation. I can't recommend them enough.
I can only speak to two specific areas: THE GOLDEN TRIANGLE and CALCUTTA, as they were the only areas we had time for.
THE GOLDEN TRIANGLE (Delhi, Agra, Jaipur)
DELHI: Many historic sites. Otherwise, not my favorite place.
AGRA: Gateway to the Taj Mahal.
Only stay in Agra long enough to see the Taj, preferably at sunset.
TAJ MAHAL:  Okay, I admit it. The only reason I went to the Taj was because my husband had gone once without me and I never let him forget it.  I mean, can't you close your eyes and see the Taj Mahal? Well, let me tell you. No you can't. I have rarely been flummoxed in my travels. The Taj flummoxed me.  It really is beyond description, a gleaming wedding cake that seems to float in the air. And up close, intricately carved with inlaid gems and stone. It really, really is all that, and you'll regret missing it. The only warning I'll give is that it's a lot more crowded than you can see in that picture with Princess Diana.
JAIPUR: A pink fantasy of a city. Beautiful architecture, wonderful history, and it's the world capitol for cutting of colored gemstones. Don't miss an exhibition. We stayed in a little gem of a local hotel that is an old haveli, or Hindu home, and ate a sumptuous dinner off of gold plates at the Rambagh Palace, once the home of the Maharajas of Jaipur. And make sure to make time for the Amber Fort, about 20 miles outside of the city. If you get there early enough, you can ride an elephant up to the ramparts (even more cool than it sounds).
RANTHAMBHORE TIGER SANCTUARY: Just south of Jaipur. A small sanctuary that still has the greatest number of tiger sightings in the area. You can't stay within the sanctuary, but I highly recommend the hotel we found, just outside. A family home turned hotel with extra rooms in tents that resemble 4 star accommodations. There is just nothing like coming back from a hard day hunting tigers to sit around a campfire by the pond(where the crocodile lives), and having young men in white jackets hand you a gin and tonic before dinner. Civilization at its finest.
DELHI:
Hotel Vasant Continental
Basant Lok, Pratik Market
New Delhi, Delhi, India
011 26148800
AGRA:
ITC Mughal Agra
Taj Ganj, Agra 282001
JAIPUR:
#1 Savista Retreat
About ten miles outside Jaipur and reached via a road that will make you question your choice. Have faith. The pictures on the web site don't do it justice, and the hosts are fascinating as well as truly hospitable. We stayed here for a couple of days just to rest.
#2 Umaid Bhawan Hotel
D-1-2A Behind Collectorate, Banipark
Jaipur, Rajasthan 302016, India 0141 2316184
www.umaidbhawan.com
A heritage hotel with character. An old haveli, or Hindu home that is all color and whimsy. A great base for touring Jaipur.
RANTHAMBHORE TIGER SANCTUARY:
Khem Villas, VPO Sherpur Khiljipur, Dist. Sawai Madhopur, Rajasthan,
Telephones: 094140 30262, 07462 252099, 07462 252219
E-mail: khemvillas@anokhi.com
Khem Villas call themselves a luxury jungle resort. It is truly exotic, between a historic house and camp tents that are more luxurious than most hotel rooms, a pond with a crocodile, evening drinks served by waiters in white coats.
Restaurant Recommendations
My favorite place in the country. A beautiful melding of Indian and British architecture at its finest. 
No animals in the streets here, but the medians are lined with small Hindu temples to their 2 million and 2 gods. Lush tropical foliage and gleaming white buildings, a great swath of green that is a horse racing track, and the ever-present brown flow of the Hooghly River, which is a tributary of the great Mother Ganges. If you are interested in history, ask your guide to show you the British Cemetery from the earliest days of the Raj. It was filled in 1820, and is eerie and beautiful and evocative today.
If you're hesitant about traveling to a new place, a tour is a great way to get an overview and learn where you want to return. If you are in a tour group, consider getting a bit away once or twice to see people you normally wouldn't on the bus. In general, in big cities I've found that the on-off bus tours are great for getting a lay of the land, especially the double-deckers, if you enjoy architecture. Even if we've been to a city before, we often take them just to enjoy an overview.
Anybody with great (reasonably priced) recommendations of their own, let me know. I'll try and include them: For other info on Ireland or England, I highly recommend their Tourist Boards. I have a few links on my site, but the net is a great place to shop for places to stay. If you have any questions, comments or recommendations, email me at eileendreyer@eileendreyer.com.
TAJ BENGAL: 
Taj Bengal Hotel
Belvedere Rd, Alipore
Kolkata, West Bengal, India
033 22232574