Seven years ago now, my good friend Dave died in a plane crash. He was 52. He was also a real Renaissance man; engineer, firefighter/paramedic, scuba instructor, sailing master, mountain climber, wildlife photographer, and he build and flew his own airplane (no, that's not why he died). When he died, his wife decided that he deserved better than to have his ashes on the mantlepiece being yelled at. So she cadged some empty pill bottles and divided him up. And now, anybody who goes anywhere Dave loved to go or would love to go, we take him along. To make the trips memorable, we take his picture in an appropriate hat and sunglasses, when we can, and then leave him somewhere along the way. When we return, we give Katie the photo album with map of Dave's trip. Since that time he's been all over the world.
Of course I'm writing a book about it. After all, that's what I do. The working title is TRAVELS WITH DAVE: WHAT A PASSPORT, PILL BOTTLE AND SUNGLASSES HAVE TAUGHT ME ABOUT LIFE, DEATH AND FRIENDSHIP. I've been sharing my photos with my Facebook friends for a while now. Well, it's time to give them a permanent home, since they can't all end up in the book. So I begin with four examples of Dave's travels.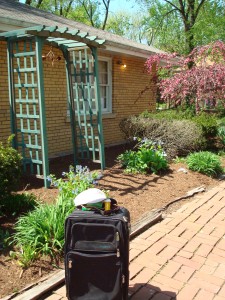 Here is Dave setting off for a trip. He's packed his bag and ready to go, waiting there outside my door….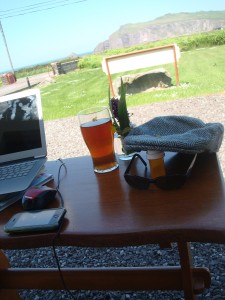 Here is Dave sharing my work table where we sat outside of our house on the Dingle Peninsula in Ireland. He's always good company. Great listener, doesn't interrupt. Always smiling(because that's the way I remember him)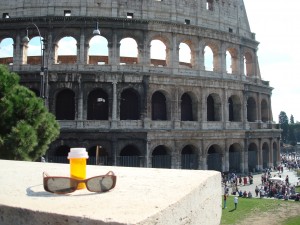 I think this one's pretty self-explanatory. The only problem is that he isn't wearing his very natty hat. You'll have to wait for the pics from Pompeii(particularly the house of ill repute)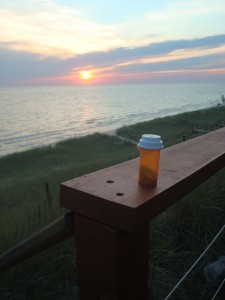 And here is Dave sharing one of my favorite spots in the world, the Lake Michigan shore, where my family has gone on vacation since I've been a little girl. We gave him a Viking funeral. Sadly, the pictures were lost.
Stop by again. I'll be regularly adding pictures as I work, along with little stories about these travels, some of which will be in the book. We've had some great times. I've shared some great conversations along the way, met some fabulous people and had some great surprises. And best of all, I got to take my time saying goodbye to my good friend.