Italy is is bright, fascinating, musical, passionate, gentle, and, oh, Lord, is it friendly. There is just something about that Mediterranean light that makes you want to sit in one place with a cup of cappuccino in hand, watching the world go by. And the bells. Each town seems to have its own system, but there are so many churches that there seem to be bells ringing all the time, and it's glorious.
There is so much variety, you find you can't stop taking pictures. Learn a bit of Italian and you can have wonderful interactions with people everywhere.  If you love well-worn history, evocative music and people who talk more with their hands than their words(they really do say "Maaa-ma MI-a!" all the time), this will be like dropping into a soup of experience. And I haven't even talked about the food.
Organizing the Trip
General:   I used two travel agents, one in Italy,

Lionetti in Italy for train tickets and the south, and

Travel and Leisure Elite through American Express in the US helped us arrange tours.

Accommodations: I reserved the hotel rooms. I like that, and I find that even the best travel agents tend to go to their same default hotels. See my general travel notes on search engines.

Travel: How did we travel? Train. The Italian trains might not always be on time, but they are clean, comfortable and efficient. You can easily plan a schedule through the Trenitalia website.

Call an Italian travel agent like Lionetti to make the reservations. MUCH easier (US travel agents will charge exorbitant rates to do the same thing).

Reserve your tickets ahead of time. Saves a nasty argument for your seat.



A bit of advice:  There are no seats in a train station. So you don't need to get there really early. You'll find out your track 5 minutes before leaving. When it's announced, head for the You'll find out what track you'll be on  5 minutes before you leave. When they announce it, though, move fast. That train doesn't wait long.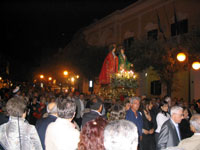 Matera is one of the most unique places I've ever been. Mel Gibson filmed the Passion of the Christ there, because it really does look like that. After my second trip to Italy, I still say don't miss it. Matera is quaint, quiet, beautiful and walkable(although, like many places in Italy, you have to like stairs). It's still small enough that in the evening everyone dresses up, enjoys gelato and strolls the piazzas in the traditional passeggiata. The photo is of a religious procession I stumbled over.
When making reservations, remember that many hotels have been carved out of caves.
B&B Alle Malve
Giovanni Pugliesi
via B Buozzi 102
75100 Matera
down in the historic Sassi, easy access, beautifully updated, and Giovanni's whole family helps take care of you(and you hope his mother Giovanna does the baking)
Domus al Barisano
via Lombardi n 16
75100 Matera
down in the historic Sassi near the Duomo. Lovely old house beautifully updated. Steps are involved. Worth it. And the host's name is seriously Fabio.
Casino Ridola
Via Morelli, 13
39-0835318811
18th C palazzo up on the hill over the old part of town. Stairs are involved. Worth it!
Restaurant Recommendations
Le Baccanti
via Sant'Angelo
Elegant simplicity amazingly in a cave. Unmatched food and service. Reached from the bottom of the Sassi
Il Cantuccio
via del Beccherie 33
0835332090
Another lovely elegant restaurant, this one up by the Duomo, lovely food and service
Ristorante il Borghese
via Lucana, 198
0835 314 223
Comfortable, family-friendly place on the Piazza Lucana. Food is wonderful and reasonable, staff friendly.
Prainano
Hotel le Sirene
via S. Nicola, 10
100 steps down from the street, but call ahead and they will have someone help with bags. No frills, but none are needed. Each room has a balcony overlooking a spectacular view of the ocean and Positano, and there is a full bar downstairs so you can sip a drink and enjoy the view. Breakfast included.
Restaurant Recommendations
Il Pino
Via G. Capriglione 13
Aaaaaaaah. That's the best way I can put it. Sweet little, friendly, happy restaurant with lovely food and a spectacular view. The kind of place where the owners encourage you to stay. We did, even if we could no longer see anything in the dark.
I usually don't do this, but I did want to warn you about another restaurant. For some reason everybody in Praiano recommends the next restaurant. And while the food is good, it is certainly not worth it. I've never met a ruder, more disagreeable, less accommodating staff in my life. Avoid ila Brace
la Brace
via Gennaro Capriglione 146
Rome has had such a bad rap over the years, that I went reluctantly. Again, embarrassed. Of course it's noisy. It's busy. It's a city. It's also lively, friendly, gorgeous, clean, accessible, and oh, the history! The art! The food! I loved it.
Recommendation: We used David and Rosanna Incorati, the hosts of our B&B in Rome, as private tour guides. I highly recommend them. The tour was personal, passionate, informative and fun. They made a remarkable city truly an experience of a lifetime (and you don't have to stay with them to use their services).
Vatican: I recommend a private tour. Otherwise the lines make Disneyworld look like the 6 Items or less lane. It will also help you decide exactly what you want to see in the Vatican Museum. Whatever else you do, though, do NOT miss the Sistene Chapel. It is a miracle.
Vatican Vista
Piazza del Risorgimento No. 36
int 16+ 06 39889323
This is a basic B&B. Nothing fancy. But very comfortable. We rented an entire apartment for 5. Lovely neighborhood, amazing hosts, really convenient. The view out the window is the Papal Palace. (I waved). The very best part is the hosts, David and Rosanna, who were not only thoughtful, funny, generous and hospitable, but great tour guides. Even if you don't stay there, get in touch for tours.
Restaurant Recommendations
We didn't spend much time in Florence this trip, because my family doesn't enjoy art. But when I come back(and I will), I've decided that I'll stay in Siena and train over every morning. Florence is glorious; it's grand. But Siena is quaint and friendly and small, a medieval walled city that oozes charm and geniality. Even better, after about 5 the swarms of tourists leave, and the city is yours.
But, wait! There's more! Tuscany really is that charming. If you can do it, get a tour of the hill towns, especially San Gimignano, which is priceless.
Albergo Bernini
via della Sapienza 15
Highly recommended for the amazing hospitality, the central location, and especially the freakin' amazing patio that has one of the spectacular views in the world. If you do nothing but sit on that deck with a bottle of wine and some cheese you bought down the street and watch the light change over the hills and buildings, it would be enough. The rooms are simple, clean and roomy. The only problem for us was Room 10, which had a terrible mold smell when we stayed there. I've been assured that the owners know about it and are dealing with it. I'll try and update when I get further info.
Restaurant Recommendations
Osteria del Compaccio
Vicolo del Compaccio 2
0577 40212
Tucked in a backstreet below the Duomo, friendly, small, with good food. Reasonable price.
Palazzo Cendon
Calle Cendon Cannaregio 534
My very favorite room in Italy. A 15th C palazzo right on the Cannereggio Canal, which is a quiet neighborhood  near the train station. Beautifully decorated, lovely staff, all the percs, and amazingly reasonable for Venice. It was our splurge for the trip. I recommend you spring for  a suite. They have balconies out over the water. I could have spent months sitting on the 15th C balcony sipping coffee and watching the boats bring supplies up the canal and the light change on the buildings.
Restaurant Recommendations
Al Leon d'Oro
Via Canonici, 3\
041 432777
Don't miss this gem. Small, out of the way, literally a mom and pop restaurant. Mom cooks and pop mans the front. Amazing food, really good prices.