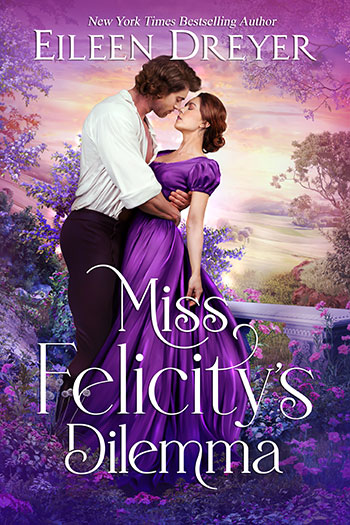 Drake's Damsels ~ The Return of Drake's Rakes #3
September 29, 2022
Oliver Heber Books
Available in: e-Book (reprint)
Miss Felicity's Dilemma
ALL SHE WANTS IS HER OWN HOME
Miss Felicity Chambers is the new teacher of piano and deportment at Miss Manville's Academy for Superior Girls. There is no reason a duke should contact her. There is certainly no reason she should marry his son. But that is evidently what the duke wants. Felicity should be delighted. But the orphaned schoolteacher has long since stopped believing in fairy tales. If only the duke's son weren't so compelling…
ALL HE WANTS IS THIS HOME
Lord Flint Bracken knows just what is behind the duke's command, and it isn't an attempt to secure a happily-ever-after for his son. The proposal is one of the duke's schemes. Flint has no choice but to cooperate, though, or he risks more than his home. He risks national security. So court a penniless schoolteacher he must. He should be furious. But Felicity Chambers isn't at all what he expected. She might very well be what he wants…
originally published October 2019 by Grand Central Publishing
"Damme if the duke doesn't have better taste than I gave him credit for," Lord Flint mused, suddenly sounding quite merry.
Felicity feared she was gaping. "Pardon? The duke?"
"The very one. You are quite correct. The command for you to appear came directly from him, even though in my hand. He wished you to present yourself here for my perusal. At least he was that kind about it."
Felicity feared she wasn't breathing. "Perusal?" she demanded. "For what?"
"Why to see if you'd do, of course."
Suddenly she was afraid. She took a step back and bumped into a table, making something rattle. She couldn't even find the words to challenge him. Her comprehension seemed to have disintegrated in the space of a kiss.
"Don't you want to know what for?" he asked.
Felicity closed her eyes, awash in humiliation. "Very well, if it will get me out of here."
He chuckled. "Why, me, of course."
Felicity's eyes flew open. "I beg your pardon?"
"I am usually more fond of blonds," he admitted. "But I imagine I could learn to like brunettes quite well."
Felicity stopped breathing altogether. "For what?"
She just hoped her voice sounded as ominous as she intended.
It obviously didn't. He was smiling again, his head tilted as if assessing her reaction, his hands back on his hips. "Well, marriage, of course."
She knew she was staring, but suddenly she felt numb and stupid. "Marriage."
He had the nerve to laugh. "You didn't think I'd want you for a mistress, did you?"
Felicity had never once fainted in her life. She didn't then. She reared back and slapped the laughing lord as hard as she could before stalking out the door.
back to Top