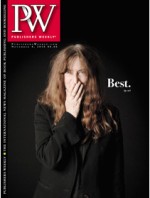 It's an annual event. Publishers Weekly announces what they consider to be the best 100 books of the year.
What was fun was to see that out of the 100 books of all kinds, romance got 5 slots. What was astonishing, at least to me, was that my first historical romance, BARELY A LADY, was named one of the top 5. I'm still trying to believe it. I'm so psyched to be in such amazing company. Two of the other books are already on my keeper shelf. To say I'm honored would be an example of how, even as rich as the English language is, it is limited. Wow. Just wow.
Here's the more fun part. Joanne Bourne, one of the other authors on the romance list(and an amazing author. I love her work) mentioned on her blog that Rose Fox, on her blog, Genreville, gives us an inside look into the process, including the top 5 romances and the 5 who came really close. It's great reading. I'm including just the list here. If you want an introduction into romance, I can't think of a better list. I know that I'll search out the ones I've missed.
Top Five:
The Forbidden Rose
Joanna Bourne (Berkley Sensation)
In mid-revolution France, a noblewoman and a spy are torn between wartime practicality and headstrong passion. The gripping espionage story and wry voiceovers from the heroine will win hearts.
The Iron Duke
Meljean Brook (Berkley)
Brook's fabulous steampunk tale has an iron-boned war hero and a half-Asian detective inspector matching wits and wills on airships and battleships and in smoke-choked London as England recovers from 200 years of Mongol rule.
The Heir
Grace Burrowes (Sourcebooks Casablanca)
Burrowes pulls off an improbable Regency affair between a spoiled ducal heir and a housekeeper with a secret.
Barely a Lady
Eileen Dreyer (Grand Central/Forever)
The wartime amnesia romance is as old as the hills, but RWA Hall of Famer Dreyer (aka Kathleen Korbel) makes this one work.
Trial by Desire
Courtney Milan (HQN)
Modern readers will be as intrigued by the Victorian-era political issues as they are by the central story of a man trying to reconnect with the wife he abandoned.
And the rest of the top 10:
Proof by Seduction,
Courtney Milan
A stunning debut Victorian that very nearly made the top list, outclassed only by its sequel.
(my note: how good do you have to be to rate 1 slots in the top 10? I agree, too. Love Courtney Milan)
Whisper of Scandal,
Nicola Cornick
An adventure story wrapped around a heartbreaking tale of a woman rendered barren by her husband's beatings.
Last Night's Scandal,
Loretta Chase:
The hilarious and adorable story of two rapscallions renovating a haunted Scottish castle.
Marry Me,
Jo Goodman:
A moving 19th century American romance with tons of interesting period medical detail.
Warrior/Scoundrel/Rebel
Zoë Archer's
Cranks up the Indiana Jones–style adventure to 11 and then piles on the sexy heat.
Welcome to Harmony
Jodi Thomas
Contemporary Western, is a really lovely meditation on what it means to be family.
No Chance,
Christy Reece
series kickoff is an exemplary romantic suspense novel with a fabulous self-saving heroine.
So, my friends who've come over from suspenseland or the small town of mystery, even the universe of science fiction, here's a great way to dip your toes into romance, just to see what you think. I promise you won't be disappointed.
Now, back to the champagne and chocolates….