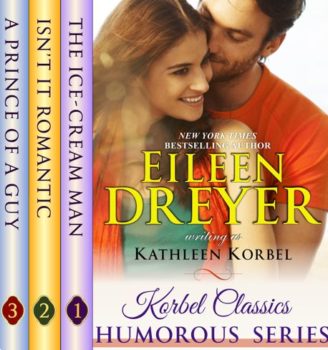 Korbel Classic Romance Humorous Series
May 28, 2017
ePublishing Works!
Available in: e-Book
Korbel Classic Humorous Series
Meet Nick—an ice cream peddling undercover-cop, Pete—a war correspondent trying to fulfill his Aunt's last wishes, Crown Prince Eric who's in a bind, and the feisty gals who grab their attention and capture their hearts. Three complete Contemporary Romance Novels in one Boxed Set.
THE ICE CREAM MAN
(originally published November 1989 w/a Kathleen Korbel in Silhouette Intimate Moments #309 in mass market paperback)
Divorcee Jenny Lake suspects the new ice cream man, Nick Barnett, is selling more than bompops off his truck. Nick suspects Jenny is more than the frazzled mom she portrays, as all evidence makes her suspect number one in his check-kiting case. Nick also knows a cop should never fall in love with his suspect.
ISN'T IT ROMANTIC
(originally published April 1992 w/a Kathleen Korbel in Silhouette Desire #703 in mass market paperback)
Childhood friends, Pete Cooper and Brooke Ferguson spent their evenings watching TV with Pete's Aunt Mamie. Now Pete is a famous cable news anchor who earned his stripes in war zones, and Brooke watches Pete on the same old TV in the same small town. Then Aunt Mamie passes away, and Pete and Brooke must set out on a road trip to fulfill Mamie's last wishes.
A PRINCE OF A GUY
(originally published November 1987 w/a Kathleen Korbel in Silhouette Desire #389 in mass market paperback)
When New Yorker Casey Phillips visits the tiny country of Moritania to see where her ancestors came from, she's mistaken for a princess, and Crown Prince Eric von Lieberhaven insists that Casey—a dead ringer for the missing royal—step into the princess's shoes until she can be freed.
Publisher's Note: Dive in and enjoy these classic romances from Eileen Dreyer. Amusing, sweet and oh-so romantic in the best way, these timeless tales will leave you feeling good all-over. Fans of humorous contemporary romance by authors such as Sally Thorne, Lauren Blakely, Addison Cole as well as Molly Harper, Sarah Maclean and Emma Chase will not want to miss this enduring and sweet romantic series.
KORBEL CLASSICS: HUMOROUS SERIES, in order
The Ice Cream Man
Isn't It Romantic?
A Prince of a Guy
Princess and the Pea
A Fine Madness
ALSO by Eileen Dreyer:
Nothing Personal
Brain Dead
Bad Medicine
If Looks Could Kill