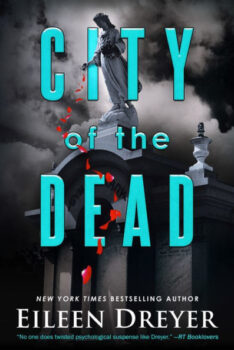 Deadly Medicine
September 8, 2020
Indie Published
Available in: e-Book, Trade Size (reprint)
City of the Dead
Trauma Nurse Faces Life and Death Searching for her Lost Sister in City of the Dead, a Medical Thriller from Eileen Dreyer
—New Orleans, Present Day—
Forensic Nurse Chastity Byrnes courageously stood up to her father, exposed his secrets, shattered her family, and sent herself into exile. But after a decade of struggle, she's finally found peace, until a sister she hasn't seen or heard from in years disappears, and her sister's husband—a man she's never met—turns to her for help.
Old guilt twisting inside her, Chastity leaves for the French Quarter of New Orleans searching for a sister she suspects doesn't want to be found.
Aided by fellow Forensic Nurse Karina Boudreaux, and ex-firefighter-turned-cabbie James Guidry, Chastity navigates the diverse culture of New Orleans and her own past, searching for answers.
But as the people around her begin mysteriously dying, Chastity discovers she's in the sights of a serial killer.
Publisher's Note: No one writes medical thrillers better than former Trauma Nurse, Eileen Dreyer. The story contains profanity consistent with the setting, with no explicit sexual content, and will be enjoyed by fans of medical and psychological thrillers and mysteries.
Originally published as Sinners and Saints in November 2005 in hardcover by St. Martin's Press, November 2006 in mass market paperback and April 2007 in eBook by St. Martin's Paperbacks.