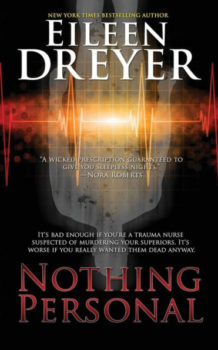 Deadly Medicine
October 9, 2013
ePublishing Works!
Available in: e-Book, Trade Size (reprint)
Nothing Personal
Trauma nurse Kate Manion is viewing her own hospital from the other side. Badly injured in an auto accident, she's laying in her own ICU, strapped down, paralyzed and unconscious. And yet, somehow, she managed to kill her nurse.
The murder was an accident; Kate swears. But the accidental deaths keep happening. Has someone taken Kate's mishap as a mandate to kill off anyone making life difficult for the staff?
As corpses pile up, Kate realizes that only she can stop the serial killer who is acting out the fantasy of every staff member at St. Simon's Hospital.
With only a burned-out forensic pathologist to help her, Kate must wade through greed, politics, secrets and suspicion to unearth a murderer she doesn't want to find; before he — or she—strikes too close to home.
Originally published March 1994 in mass market paperback by HarperTorch and August 2012 in eBook by ePublishing Works!.
PROLOGUE
On February 20, Kate Manion had the chance to see her hospital from the other side. It was an opportunity she hoped never to have again.
Kate was a critical-care nurse, one of those purposeful, talented people always dressed in scrubs and lab coat, a stethoscope slung around her neck and pockets filled with penlights, scissors, and trauma-scale charts, who walked through an emergency department with the purpose of MacArthur stepping out of the water at Leyte. Which Kate did. At least until she ended up on her head in a ditch alongside Highway 44 with an ambulance and a candy-apple-red Firebird wrapped around her.
If it had been her Mustang, somebody might have blamed Kate. After all, she did drive it fast—often a little too fast. But that was what Mustangs were for. Besides, Kate was a good driver. She knew all the quirks and eccentricities of her car better than her ex-husband had known hers. Kate would never have let her car land in a ditch.
But Kate wasn't driving either vehicle. The guy driving the Firebird would have been arrested on the spot for driving under the influence and vehicular manslaughter, if he'd lived long enough for the cops to get handcuffs on him. By the time that determination was made, though, Kate was already on her way to the medical center in critical condition with chest and head injuries.
Within an hour, Kate was in surgery to repair the small laceration she'd suffered to her aorta and the clots she'd collected on her brain from the depressed skull fracture. She had tubes stuck into her chest to re-expand her collapsed lungs, a tube in her trachea to help her breathe, one in her stomach to drain away any digestive juices that could compromise her breathing ability, and another in her bladder to make sure her urine was clear and neatly collected. She had three large-bore IVs in her, one in each arm and one in her subclavian vein, to replace fluids and electrolytes; an arterial line; an intracranial pressure sensor to measure the potential threat to her brain; a Swan Ganz pump to measure her blood volume and cardiac output, and a blood pump to reinfuse her with the red cells she was losing through those chest tubes. And with all that in, she still managed to make hospital history. On February 24, Kate Manion became the only intensive-care patient in medical center memory to successfully kill her nurse.
back to Top
"A Master of the suspense genre" – Rave Review
"Nothing Personal is a realistically frightening medical thriller that, like the works of Cook, will makes readers think twice before checking into a hospital. Eileen Dreyer keeps the audience on the edge as the reader tries to figure out what will happen next. This spine-tingling suspense thriller has some quirky but realistic secondary characters (a Dreyer trademark) that add just the right amount of humor to keep this nuclear-hot novel from a meltdown." Harriet Klausner 4 ½ Stars Affair de Coeur
"Readers will certainly get their money's worth from this book. Not only is it a page turner, but its earthy portrayal of life in a large hospital stays in the mind. Dreyer takes the reader right into the midst of what it is like to be both worker and patient in the critical care area, all done with a healthy dose of humor." The Drood Review of Mystery
"NOTHING PERSONAL is a complex novel filled with heart-stopping suspense, ironic humor, and some hard-edged truths about the current medical system that are guaranteed to keep you on the edge of your seat to the very last page." RT Magazine 4 ½ Stars
"NOTHING PERSONAL has everything that one could ask for-a fast-moving plt, a dandy murder mystery, and a cast of eccentric characters that are reminiscent of inmates in an asylum. Eileen Dreyer blends just enough romance into her psychological thriller to produce a first class reading experience." Harriet Klausner