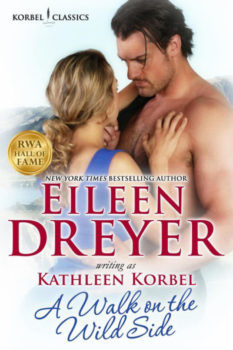 Korbel Classics #7
March 1, 2018
Eileen Dreyer LLC
Available in: e-Book (reprint)
A Walk On The Wild Side
J.P. O'Neill is in the fight of his life. A legendary agent with the DEA, he's uncovered a conspiracy in his own agency. The only problem is he's been arrested for the murder of his partner. If he goes to jail, he dies.
There's only one solution—escape. The only way to do that is to kidnap his defense attorney. Lauren Taylor is a high-priced attorney doing a favor for a friend. Suddenly she finds herself on the run with the most dangerous man she's ever met. Will she survive with her heart intact?
Originally published October 1992 w/a Kathleen Korbel in Silhouette Intimate Moments #457 in mass market paperback.
The room looked tired, heavy under the weight of what it had witnessed. Lauren knew the feeling.
"The chances for bail aren't very good," she admitted honestly, eyes back on the file as if memorizing the words she'd already studied. "They have a witness who claims to have seen you shoot Robert Carson—"
"I did shoot him."
She was forced to look up at him again. "Pardon?"
He shrugged, those eyes suddenly, briefly as bleak as death. "My old mother always told me to take responsibility for my actions. Bobby was my partner, so I owe him that much."
Honor. She wasn't sure she was ready for that. Lauren realized that her chest was beginning to ache. She wanted to comfort this man, and it frightened her. She nudged her glasses back up onto her nose and clutched her pen as if it were a weapon of self-defense.
"Why did you shoot him?"
The smile she got was as dark as those eyes. Even, strong teeth flashed white beneath the bedraggled mustache. "Because he was going to shoot me, of course."
Lauren took a look at her reports. "But there was no gun found."
"Of course not. The last thing they need is to have me sounding legitimate. Which is also why that packet of crack flipped out on the ground when the police were turning out my pockets. It had been planted. Nothing like a dirty narc to turn on his best friend, after all."
Which brought Lauren back to the call she'd received just as she'd been gathering up her briefcase. She set down her pen. She laid her hands on the table and faced her client. And she asked him the sixty-four-thousand-dollar question. "Are you a dirty narc?"
This time his smile was wild and delighted. His eyes crackled with a kind of mad glee that had no place in this dingy room. "If I were a dirty narc," he assured her, "I sure as hell wouldn't be dressed like this.''
She nodded. More than that would have been superfluous. Mr. O'Neill went back to mutilating his coffee cup. His eyes were red-rimmed, his manner tense and unpredictable. He was millimeters from taking flight, his long legs almost twitching with the effort to remain still. On almost anyone else, Lauren would have suspected drugs. She wasn't sure why she didn't want to think that about this man.
"They," she echoed his statement. "They who?"
That was what broke his patience. He launched from his chair as if he'd been spring-loaded. Lauren almost flinched, not sure what he had in mind. Wondering not for the first time how close at hand help was.
But he wasn't focused on her. Hands shoved into the pockets of his battered old peacoat, head down, he paced.
Lauren fought the urge to check her watch. Her stomach was grumbling. She was supposed to meet Phil for dinner tonight. She was going to get there right about the dessert course if this kept up, and she was going to need more than dessert to see her through. Lauren's stomach was a notorious dictator, and even Mr. O'Neill's story wasn't going to quiet its demands.
"Mr. O'Neill."
His head shot up. He slid to a stop by the door. "J.P.," he allowed with a quick grin that was actually charming. "I haven't been called Mr. O'Neill since Sister Roch caught me smoking in the boy's room in eighth grade."
Lauren scowled, trying her best not to give in to the urge to smile back. "I'll bet. Who are 'they'? Did 'they' do that to you?" she asked, pointing to what looked like a new abrasion along his right cheekbone.
"No." He smiled. "That was nothing more than a quick etiquette lesson by the arresting officers."
Lauren stiffened. She was hardly a neophyte in the ways of police, but it didn't make her any happier. "Did you provoke it?"
"Of course. I was found standing over a dead federal agent with a gun in my hand. They had every right to object."
back to Top